KORIFEI – INTERNATIONAL WOMAN'S DAY
March 6, 2011
Avery Fisher Hall, Lincoln Center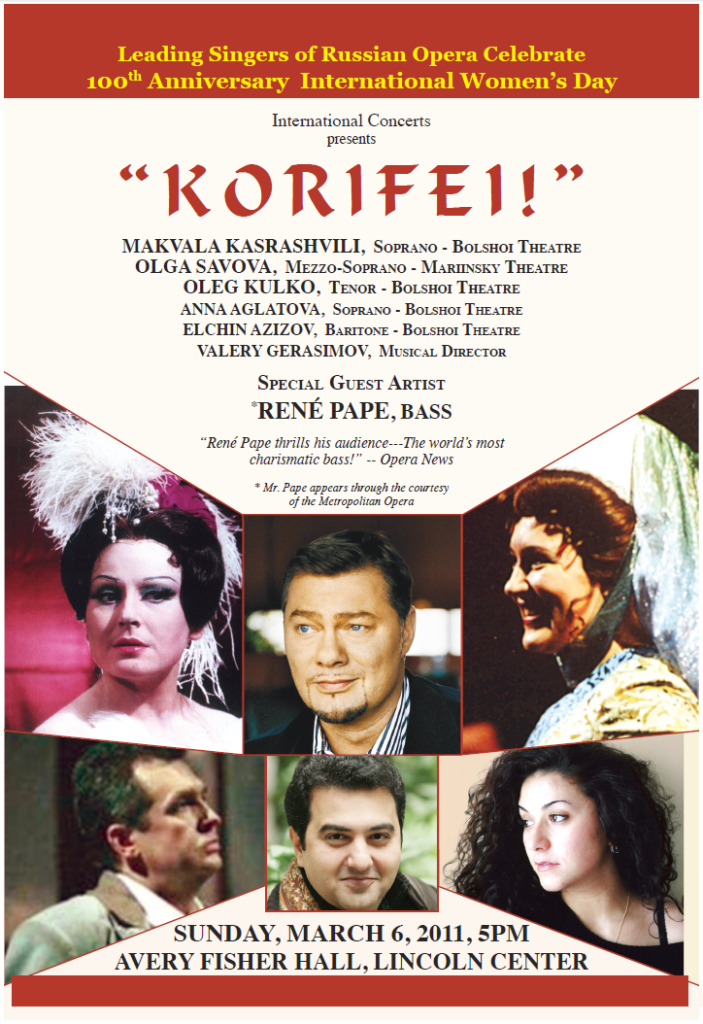 International Women's Day 100th Anniversary
EVENT: "KORIFEI!" – Great Singers of Russian Opera
RENÉ PAPE, Bass – Special Guest Artist
*Appears Courtesy of Metropolitan Opera
With

MAKVALA KASRASHVILI, Soprano
OLGA SAVOVA, Mezzo-Soprano
OLEG KULKO, Tenor
ANNA AGLATOVA – Soprano
ELCHIN AZIZOV, Baritone
VALERY GERASIMOV, Musical Director

Some of the world's most spectacular singers appear together at Lincoln Center Avery Fisher Hall on March 6 in a Gala Concert honoring the 100th Anniversary of International Women's Day, a major holiday that began in Russia one hundred years ago. The artists' origins represent several countries celebrating this day, including: Rene Pape – Germany; Makvala Kasrashvili – Georgia; Oleg Kulko – The Ukraine; Olga Savova – Russia, Elchin Azizov – Azerbaijan. The program will consist of outstanding arias and romances by Tchaikovski, Rimsky – Korsakov, Balakirev, Verdi, Puccini.
All singers are principal soloists at the world's most prestigious theatres, including the Metropolitan Opera, the Bolshoi Theatre, the Mariinsky Theatre and others. Rene Pape has been called one of the most important singers internationally by numerous critics, including The New York Times, Opera News, The Financial Times. Makvala Kasrashvili has received the highest accolades and the Gold Medal of the Russian Government, Olga Savova has been given the title of "People's Artist of Russia"
It would be difficult to find a more compelling line-up of such distinguished artists in one concert. This will be a very unique evening that should not be missed.
A portion of the proceeds from this concert will benefit Women's Health Organizations. International Concerts is a not for profit organization.
A Post concert celebrity reception will be held for reserved guests immediately following the concert at the Russian Mission. Noted celebrities will be attending. (Celebrities who have appeared in the past include Peter Gelb, General Manager of the Metropolitan Opera, Shimon Peres of Israel, Deborah Voigt, Paul Sorvino, Dmitri Hvorostovski, Maxim Shostakovich.)
KORIFEI – INTERNATIONAL WOMEN'S DAY