INTERNATIONAL CONCERTS RECEIVES
Best of Manhattan Award – 2015

PRESS RELEASE

Manhattan Award Program Honors the Achievement
MANHATTAN November 4, 2015 — International Concerts has been selected for the 2015 Best of Manhattan Award in the Non-Profit Organization category by the Manhattan Award Program.
Each year, the Manhattan Award Program identifies companies that we believe have achieved exceptional marketing success in their local community and business category. These are local companies that enhance the positive image of small business through service to their customers and our community. These exceptional companies help make the Manhattan area a great place to live, work and play.
Various sources of information were gathered and analyzed to choose the winners in each category. The 2015 Manhattan Award Program focuses on quality, not quantity. Winners are determined based on the information gathered both internally by the Manhattan Award Program and data provided by third parties.
About Manhattan Award Program:
The Manhattan Award Program is an annual awards program honoring the achievements and accomplishments of local businesses throughout the Manhattan area. Recognition is given to those companies that have shown the ability to use their best practices and implemented programs to generate competitive advantages and long-term value.
The Manhattan Award Program was established to recognize the best of local businesses in our community. Our organization works exclusively with local business owners, trade groups, professional associations and other business advertising and marketing groups. Our mission is to recognize the small business community's contributions to the U.S. economy.
---
Sukhishvili Georgian National Dance Is A Winner!
INTERNATIONAL CONCERTS DOES IT AGAIN, ANOTHER SOLD OUT HOUSE, ANOTHER WINNER! CONGRATULATIONS TO SUKHISHVILI GEORGIAN NATIONAL DANCE AND INTERNATIONAL CONCERTS!
Triumphs in New York, Washington D.C. and Philadelphia performances! Sold out at Lincoln Center David Geffen Hall! Overwhelming Ovations! Thank you to all who came out to support this phenomenal company!!
Read from Washington Post, October 7, 2015, Sarah L. Kaufman, Critic:
"SHOCK AND AWE FROM GEORGIAN TROUPE…IN SUKHISHVILI GEORGIAN BALLET, ELEGANT TRADITION MEETS MODERN ENERGY …

In Sukhishvili Georgian Ballet, elegant tradition meets modern energy

The Sukhishvili Georgian National Ballet exhibits a rare physicality through its astonishing moves… explosive energy…. like restless stallions… these astonishing moves become exhilarating…posses a fine aesthetic, from the live musicians on stage… the the poise of the dancers with their lifted, bearing… high jumps and whirling turns were exciting …. quieter moments were most compelling… you could believe they floated just above the stage… airy hovering quality… dancers divided and subdivided in perfect symmetry.. math met mystery and you simply surrendered to its austere beauty."

…
---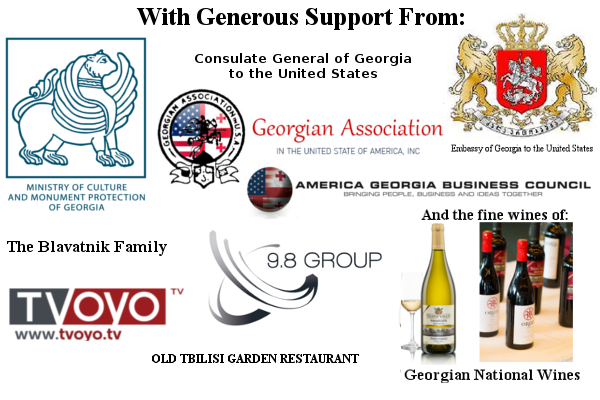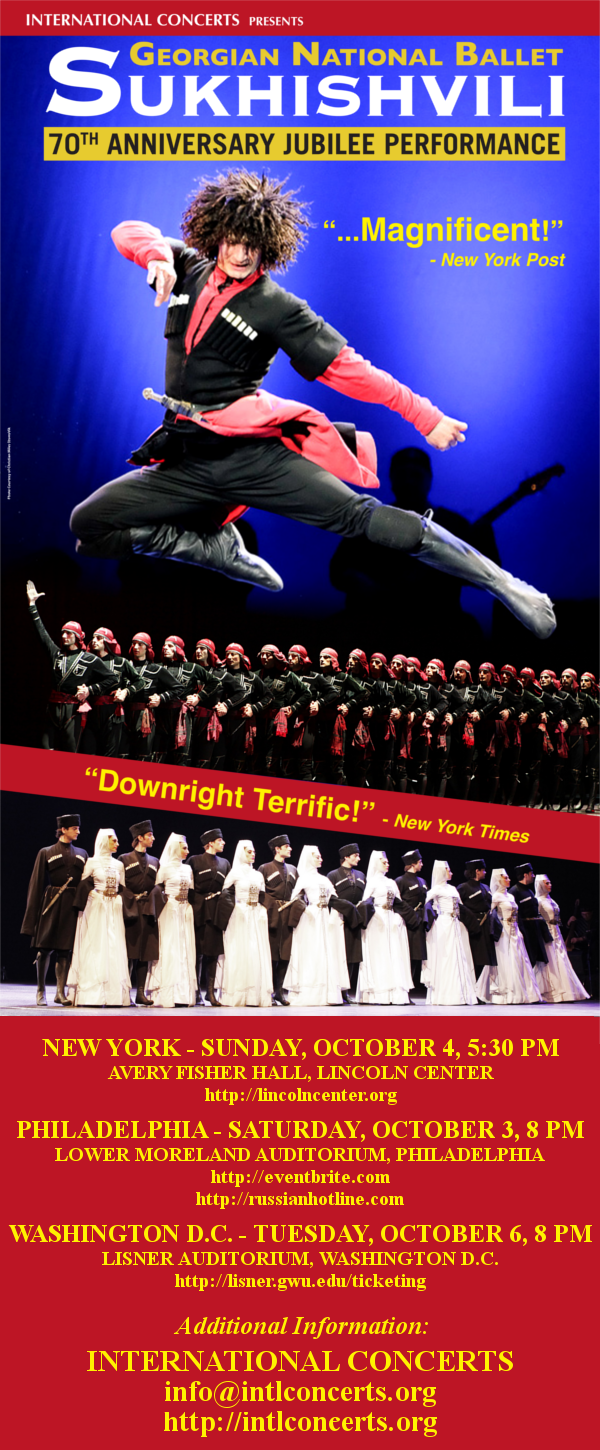 SUKHISHVILI RETURNS
OCTOBER 3rd thru 6th, 2015
SUKHISHVILI GEORGIAN NATIONAL DANCE
SEVENTIETH JUBILEE ANNIVERSARY
Sukhishvili Georgian National Ballet to Dazzle US Again
By Milene Fernandez, Epoch Times | September 7, 2015

NEW YORK—Elegant and soft-spoken, Nino Sukhishvili's beautiful face was glowing as she described the Sukhishvili Georgian National Ballet, during a two-day visit to New York. The world-renowned dance company will perform again in the city on October 4 at Avery Fisher Hall in Lincoln Center, as well as in Philadelphia, Baltimore and Washington—celebrating its 70th Anniversary.

Her grandparents, Iliko Sukhishvili and Nino Ramishvili founded the company in 1945 just at the end of World War II, and when Georgia was ruled by the red terror of Stalin's Soviet Union.

Once a dancer in the company, Sukhishvili decided to dedicate her whole life to running the company. She is the executive producer while her brother, Ilia Sukhishvili, who also danced in the company, is the artistic director.
Pictures by CHRISTIAN MILES STOMSVIK, CMS PHOTOS
---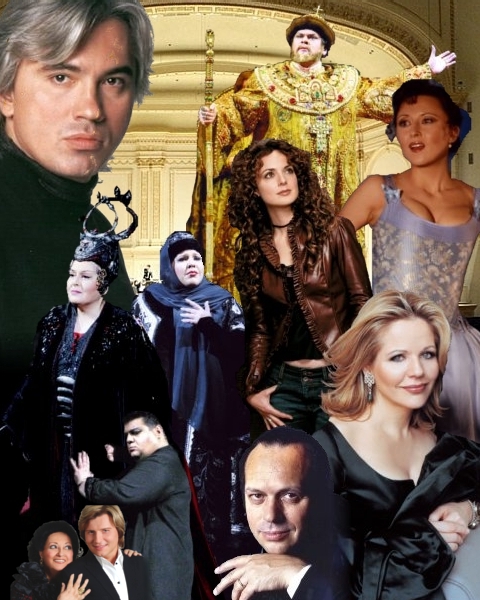 INTERNATIONAL CONCERTS is a 501(c) (3) not-for-profit corporation that serves diverse cultural communities, presents some of the world's finest artists, and provides opportunities to emerging talent.
Past Productions include:
MAXIM GORKY DRAMA STATE THEATER: Efim Zvenyatsky, Dir.
NINA ANANIASHVILI: Alexei Ratmansky, State Ballet of Georgia, Avery Fisher Hall
KORIFEI – INTERNATIONAL WOMEN'S DAY: René Pape, Bass, Metropolitan Opera, Makvala Kasrashvili, Soprano, Bolshoi Theatre Celebrated International Stars of Opera, Avery Fisher Hall
SUKHISHVILI NATIONAL BALLET OF GEORGIA: Ilia Sukhishvili Jr. and Nino Sukhishvili, Choreographers
A SPECIAL VALENTINE: Montserrat Caballé (Soprano), Nikolay Baskov (Tenor) – Avery Fisher Hall, Chicago Symphony Hall
RUSSIA DAY CONCERT with VLADIMIR GALOUZINE, Tenor, Carnegie Hall
"FOR LUCIANO PAVAROTTI – with Love" at Avery Fisher Hall, Lincoln Center
VOZ LATINA Latin Grammy Artists, Avery Fisher Hall, Lincoln Center
DEBORAH VOIGT GALA TRIBUTE in cooperation with Russian Consulate
STARS OF THE BOLSHOI THEATRE at Carnegie Hall
CELBRATION HONORING PETER GELB, General Manager, Metropolitan Opera, at Russian Consulate
MOSCOW PHILHARMONIA with OLGA GURYAKOVA, Soprano, Carnegie Hall
RENEE FLEMING TRIBUTE with DMITRI HVOROSTOVSKI in cooperation with Russian Consulate
THE JEWEL BOX, New York Premiere, written by Paul Griffiths/music by Mozart, in New York, on tour, in partnership with New Jersey State Opera, directed by Theodore Mann
IOLANTA by Peter Tchaikovski, Town Hall, NYC, Russian Embassy, Washington D.C
LA BOHEME by Giacomo Puccini, two tours of United States and Asia
RIGOLETTO by Giuseppe Verdi, Taiwan
LA MOLINARA by Paisiello, American Premiere, Town Hall, NYC
NEW ARTISTS AND COMPOSERS of Armenia, Carnegie Hall
SPECIAL EVENTS AND CONCERTS nationally with music by Puccini, Verdi, Glinka, Shostakovich, Tchaikovski
---
INTERNATIONAL CONCERTS was greatly honored by the proclamation by Marty Markowitz, President of the Borough of Brooklyn, declaring November 4, 2011 as INTERNATIONAL CONCERTS – NINA ANANIASHVILI CONCERT CELEBRATION DAY in Brooklyn, USA. Excerpt from the Proclamation states:
"Whereas, all of Brooklyn joins with Artistic Director Diana C. Stomsvik and the staff and supporters of INTERNATIONAL CONCERTS – a premier organization dedicated to bringing the best of the best artists and performers from all over the world in order to spread cultural enrichment – as they present the legendary Prima Ballerina Nina Ananiashvili, along with the work of the choreographer Alexei Ratmansky;
"…Now, therefore, I, Marty Markowitz, President of the Borough of Brooklyn
Do hereby proclaim Friday, November 4, 2011 INTERNATIONAL CONCERTS – NINA ANANIASHVILI CONCERT CELEBRATION DAY In Brooklyn, USA"
Marty Markowitz, President of the Borough of Brooklyn
---

---
---