FOR LUCIANO PAVAROTTI – with Love: A Valentine's Day Tribute
Source: TheaterScene.net
By: Jeannie Lieberman
03/06/2008


All photos appear courtesy of Christian Stomsvik, StomsVik Photography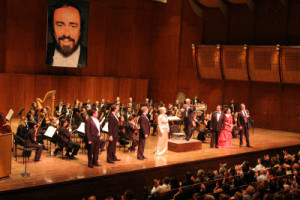 It was a night of smiles and tears, of music and memories for loyal fans gathered at Avery Fischer Hall, Lincoln Center, to pay their respects to beloved Tenor Luciano Pavarotti. They were greeted by a giant smiling picture of the beloved maestro hanging over the stage.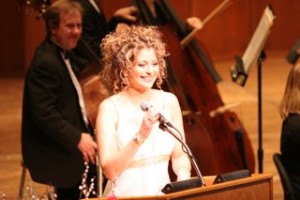 Laura Savini
Valentines Day, traditionally romantic, delivered its promise of a love fest for "one of the worlds greatest all time tenors" as quoted by the evening's hostess, Laura Savini, a familiar face famous for fundraising on WLIW New York. Caught up in the moment she coyly sashayed to center stage before launching into her duties. "I don't want to waste a good dress behind the podium". After admitting that she had never experienced Pavarotti personally she ran through the litany of his moments of grandeur, mentioning his spectacular debut at the Met in La Fille du Regiment with its famous11 high C's which inspired 17 curtain calls. She later added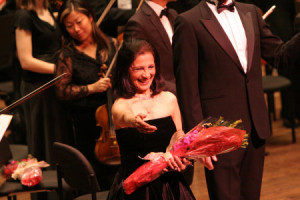 Diana Corto Stomsvik
Artistic Director: Diana Corto Stomsvik of International Concerts, a not-for-profit public charitable organization that serves diverse cultural interests and provides opportunities to emerging artists, put together an evening that reflected Pavarotti's joy in the encouragement of new singers. Pavarotti generously gave of himself to assist and teach young artists. He sponsored the Pavarotti Competition and personally coached singers that he believed had merit. The stellar cast of newcomers, hand picked for the concert, performed to perfection under the baton of conductor Arkady Leytush who brought out the best of the Kremlin Orchestra. Theodore Mann directed the proceedings
The evening was also star studded as opera notables and friends shared their memories.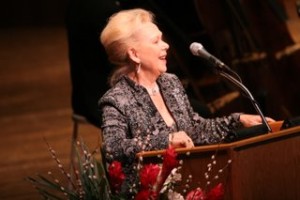 Renata Scotto
World reknowned bel canto soprano Renata Scotto, frequent singing partner and friend, debuted with Pavorotti in 1963 in La Boheme, and they shared the first Met telecast of that opera together. "We were partners and competitors, even more in the kitchen than onstage" she recalled as both tried to outdo each other in their shared passion for cooking.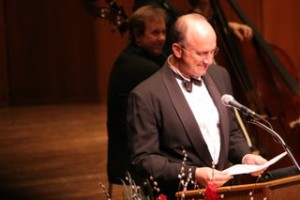 < Dwayne Croft Successful baritone Dwayne Croft, a veteran of 225 Met performances, made his Met debut with him in 1991 in a small role in Un Ballo in Maschera, which earned a "Bravo" from the maestro and began a friendship that opened doors for him by insisting he appear in Pavarotti's many operas.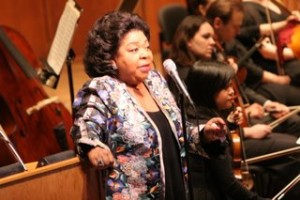 Martina Arroyo
The spirited soprano Martina Arroyo debuted with Luciano in '64 in Zurich where his performance of the Verdi Requiem "stood the house on its ears". Her experiences with Pavarotti also centered around food and she regaled the house with tales of how they would eat after performances in whatever city, often till dawn.
The evening began with the Overture from La Forza del Destino by Verdi . Libbiamo from La Traviata by Verdi, sung by Daniela Bruera and Roman Shulakoff Una tenera occhiettina from Elisir d'amore by Donizetti sung by Daniela Bruera and Umberto Chiummo La Calunnia from Barber of Seville by Rossini, sung by Umberto Chiummo Ah non credea mirarti from La Sonnambula by Bellini sung by Daniela Bruera Nemico della patria from Andrea Chenier sung by Lucio Gallo
They concluded Act I with a rousing Sextet sung by Daniela Bruera, Umberto Chiummo, Chad Johnson, Lucio Gallo, Mary Ann McCormick
Act II O mio Fernando from Italian in Algiers by Rossini sung by Mary Ann McCormick Dite alla giovine from La Traviata by Verdi sung by Daniela Bruera and Lucio Gallo Il mio sangue, la mia vita darei from Luisa Miller by Verdi sung by Umberto Chiummo Adieu notre petite table from the opera Manon by Massenet sung by Daniela Bruera Credo in un Dio crudele from Otello by Verdi sung by Lucio Gallo
Nessun dorma from Turandot by Puccini, sung by Arnold Rawls, inspired a roar of approval by the audience for what became Pavarotti's signature song, sung at sports events in his remarkable fusion of the worlds of opera and pop culture.
About the Artists: DANIELA BRUERA, Soprano, currently appearing on tour with Andrea Bocelli. UMBERTO CHIUMMO, Bass-Baritone, acclaimed singer and actor, has performed at Teatro alla Scala.
LUCIO GALLO, Baritone, a regular guest of the world's leading opera theatres such as the Metropolitan Opera, San Francisco Opera, Berlin State Opera, and Teatro alla Scala.
MARY ANN MCCORMICK, Mezzo Soprano of Lyric Opera in Chicago, Zurich Opera and Teatro alla Scala.
Last minute additions to replace three flu-inflicted artists performed admirably: ARNOLD RAWLS, Tenor
ROMAN SHULAKOFF, Tenor
CHAD JOHNSON, Tenor
THEODORE MANN, resident director, directed Benjamin Britten's Turn of the Screw for New York City Opera and Puccini's La Boheme for the Juilliard School of Music.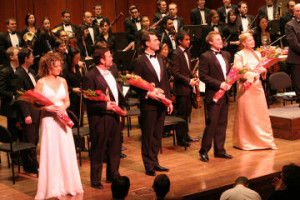 Mary Ann McCormick, Arnold Rawls, Umberto Chiummo, Chad Johnson, Daniela Bruera.
The evening concluded with an upbeat encore, O Sole Mio, sung by (and hammed up by in the style of Pavarotti) Lucio Gallo, soloist and company.
But the moment that delivered the impact of the evening and reminded all of the great loss to opera was the Pavarotti recording wafting throughout the house – his ringing, instantly recognizable tenor brought tears to many as they left the house.
As Martina Aroyo reflected "Pavarotti was all about love…he would thank you for giving it and always gave that love back to us". R.I.P.
Avery Fisher Hall Lincoln Center
The honorary committee members of this event include Governor Eliot Spitzer; Manhattan Borough President Scott Stringer, NY State Senator Thomas Duane, New York City Council Speaker Christine Quinn, New York City Councilman Peter Vallone, Jr., New York City Councilman, Michael Ricatto, Former New York City Council Speaker Peter Vallone, Dr. Edward Jackson, Pres, American-Italian Cultural Roundtable, NYC Representative Richard Gottfried, Mario Delia, President; James Lisa, Vice-President; and Robert Fonti, PR Director; of IAMPAC, Supervisor, Town of Huntington, Frank Petrone.
---
Re: "FOR LUCIANO PAVAROTTI – with Love"
Avery Fisher Hall, Lincoln Center
February 14, 2008
Source: NY1 Arts
February 15, 2008
Opera's Rising Stars Mark Valentine's Day With Pavarotti Tribute
At Lincoln Center, powerful operatic voices celebrated Valentine's Day and the life of one of the all time greats, Luciano Pavarotti. NY1's Stephanie Simon filed the following report on the special musical tribute.
Opera singers from near and far gathered at Lincoln Center Thursday night to pay tribute to opera great Luciano Pavarotti. The Italian tenor died in September at the age of 71. Today's rising opera stars saluted him at Avery Fisher Hall.
Dwayne Croft is currently performing at the Metropolitan opera. He performed with Pavarotti many times, and says it was a dream come true.  "The good thing about Luciano and what he did was he reached out to the entire world and even people who knew nothing about opera knew Luciano Pavarotti," said Croft. "You could put his picture up and people knew, "Oh, that's Pavarotti," even if they couldn't pronounce his name they knew it was the big famous opera singer."
Lucio Gallo is also performing at the met. He got his big break performing with Pavarotti in 1991 in a concert for up-and-coming talents.  "Each year in New York, Luciano did a concert plus young singers, so I was so lucky," said Gallo. "It was a good concert and a good start."
Not all the singers performing Thursday night had the opportunity to perform with Pavarotti, but they all said they admired him and were inspired by him.
Bass baritone Umberto Chiummo says the world loved Pavarotti because he was so giving of his gift.  "What he did, actually, was art, but it was art from heart and he was direct, he was simple, he was frank," said Chiummo.
The event was produced by "International Concerts," a not-for-profit, which provides performance opportunities for emerging artists. It was fitting to have the event at Lincoln Center. It was there in 1972 that Pavarotti made history with 17 curtain calls and it's there that his spirit lives on.
– Stephanie Simon