Excerpted from New York Times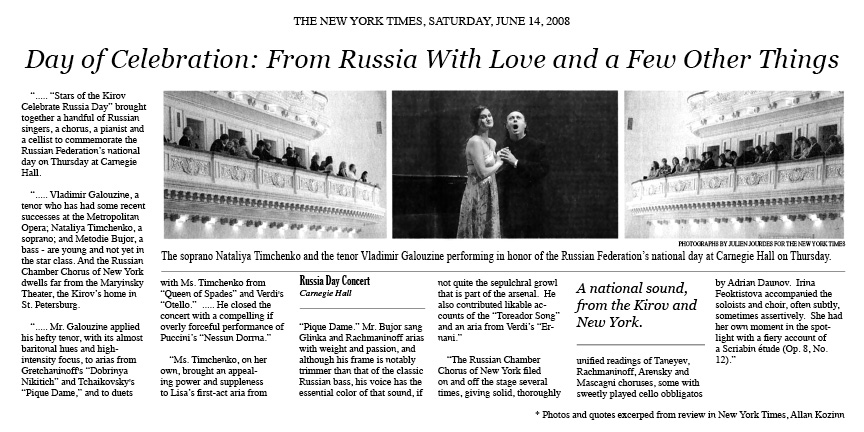 ---
NEW YORK, 13 June (Itar-Tass)
——The concert of the Mariinsky Theatre stars that took place on Thursday at New York's Carnegie Hall on the occasion of Russia Day can be rightfully called the night of Vladimir Galouzine. The sheer beauty of the world-famous tenor's voice, as well as the depth and range present in his emotional and dramatic performance, were met with the cheers and thunderous applause of the admiring audience.
The melancholy and lyrical song of Alyosha "Blooming were the flowers in the meadow" from Grechaninov's Dobrynya Nikitich were following by the tragic and philosophical aria of Hermann "What is our life? A game!" from Tchaikovsky's The Queen of Spades. The audience seemed to burst into tears along with the tenor over the betrayed love of the clown from Leoncavallo's timeless opera "Pagliacci". The high points of Galouzine's performance, who won the listeners' hearts with the masterful command of his uniquely beautiful voice, were the arias of Kavaradosi and Kallaf from Puccini's operas "Tosca" and "Turandot", respectively. 
The young talents of the Mariinsky Theatre were no disappointments either: Metodie Bujor, a bass, who powerfully and touchingly performed the aria of Ivan Susanin from Glinka's opera; and Nataliya Tymchenko, whose melodic soprano voice harmoniously fit into duets performed with Galouzine from The Queen of Spades and Othello by Verdi. A nice addition to the concert was the lesser-known to the Russian music lovers Russia chamber choir of New York, conducted by Nikolai Kachanov. 
"I'm very happy that my last concert of the season took place on this very day, the 12th of June, on the day of Russian Sovereignty," Galouzine told ITAR-TASS after the concert. "For me, as a Russian patriot, it's very symbolic." Galouzine's tour marked his concert debut in the United States, where he had previously performed opera solos in New York, Chicago, and Houston (among other cities) with great success. Galouzine continued, saying: "I am proud that my first concert took place on the most prestigious American stage. It is from this stage that Tchaikovsky and Brahms – the two composers that I simply adore – discovered America for themselves. And Tchaikovsky, for me, is the pinnacle that I am striving to attain." 
"We are very proud to present Russia's and the Kirov's preeminent artists to the New York audiences and looking forward to seizing on new opportunities for cultural exchanges between our two countries", said Diana Stomsvik, Exec. Dir. of International Concerts, a New York-based nonprofit group, whose most recent presentations include "FOR LUCIANO PAVAROTTI – with Love" at Lincoln Center, Avery Fisher Hall, and STARS of the BOLSHOI at Carnegie Hall. 
"Russia is a great place for investment by American clients of Third Millennium Russia Fund that has been working for ten years now, yielding the average profit of 37% annually," explained John Connor, the head of the fund and a sponsor of the concert. "So, this can be considered our payback for all the prosperity we secured for our investors doing business in Russia, which coincided with dramatic recovery of the booming Russian economy with its rapidly growing middle class," said Connor, who, as he says, appreciates good music and, with each visit to Moscow, does his best to attend a concert at the Tchaikovsky Conservatory Grand Hall.–0–lrикони