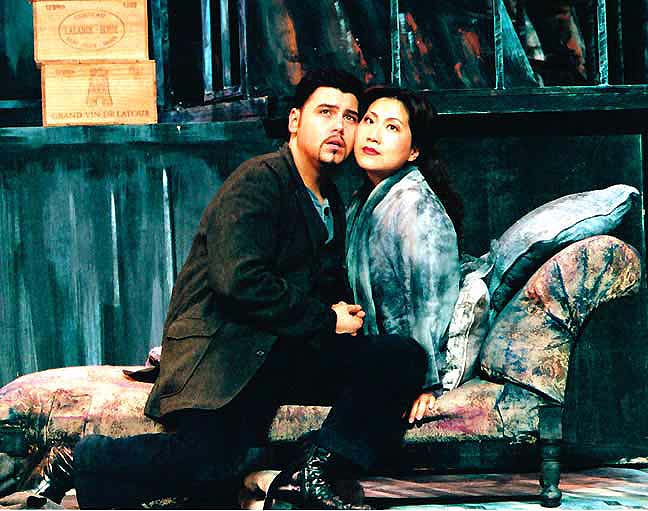 LA BOHEME – A CRITICAL SUCCESS!
When LA BOHEME receives the kind of truly warm, glowing and knowing performance that it did last night at the Auditorium Center, then it at least seems like history's greatest opera.  Such a performance is no small feat.  Theodore Mann, who directed last night's performance, showed us a La Boheme that was much more than a soap opera.  He called on singers to deliver highly nuanced, flesh and blood performances, and they heeded his command.  Christopher Pucci (Rodolfo) and Yunah Lee (Mimi) gave standout performances.  Lee's Mimi was full of convincing innocence and touching vulnerability, and her Act I aria "Mi chiamano Mimi" was  breathtaking.  Pucci was a thoroughly satisfying Rodolfo, whose performance was notable for its easy lyricism and emotional intensity.  Amy Cofield's  Musetta was brimming with animal spiritedness, and her utterly sensuous and seductive delivery of the Act II "Musetta's Waltz" was one of the highlights of the evening.  Daniel Cole as Colline gave the most tender performance of the night while Lee Gregory as Marcello and Peter Clark, Schaunard, both gave elegant, thoughtful performances.  Mikhail Kalinovski brought considerable humor and nuance to the characters of Benoit and Alcindoro.  There was much to admire in the extraordinary sweep and vigor that Conductor Bergman brought to the score, and the members of the Opera Rochester Chorus and the Cathedral School Choir likewise did a splendid job.
–          Rochester Democrat and Chronicle, John Pritcher
LA BOHEME was a bona-fide audience-pleaser.  The singing was superb!  We commend this wonderful,       winning and moving performance. 
– Professional Performing Arts Series, Queensborough
                                                                                                                A. Carobine, Director of Performing Arts
LA BOHEME was the best show we ever had!  The audience was captivated.  It was mesmerizing.
–          Beckley Concert Series, Harriet Jones
LA BOHEME had beautiful voices, outstanding ensemble, coherence and stability. 
–          Washington Post, Joan Reinthaler